Buttock Lift Enhancement
The Brazilian Butt Lift is a procedure to "shake things up!" The goal of this procedure is to enhance the shape of the behind, smooth it out, and enlarge it by adding and subtracting fat in all the right places. Since the buttocks are part of our back sides, most people don't give as much thought to the appearance of their behind as they do, for example to their breasts. But for those who do, the Brazilian Butt Lift can be a self-confidence booster, a potential body re-shaper and a gratifying change to a newly appreciated part of the anatomy. Go ahead: take a look! Does it meet your expectations for a perky and well rounded derriere or is there room for improvement? Do you look as good going, as you do coming?
Am I a Candidate for a Brazilian Butt Lift?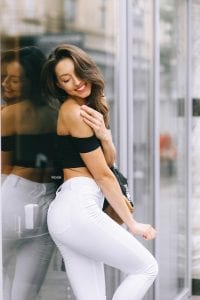 If a person is unhappy with the appearance of their behind, it could be because they don't like its shape or size. They may feel it droops or does nothing to add to the beauty of their body. Patients of different age groups may be candidates for this surgery to perk up their butts. In a one on one consultation with Dr. Joshua Halpern, patients will find out how he can help them achieve their goals for a more beautiful, fuller and better contoured behind.
How Is the Brazilian Butt Lift Performed?
The Brazilian Butt Lift usually involves liposuction of the waist, the tummy and the thighs. The fat is then transferred to the buttocks to enhance its size, make it curvier and help smooth out the appearance of the skin using the Fat Transfer procedure. Dr. Halpern discusses with the patient whether they are more interested in a small enhancement, a medium enhancement or a large enhancement. He aims to help the patient achieve their vision of beauty for themselves.
In the case of a patient with an older looking behind, the procedure can help rejuvenate the buttocks, revitalize the skin and give a more youthful appearance to the behind.
What Results Can I Expect From a Brazilian Butt Lift?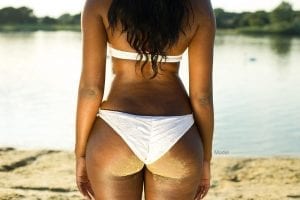 A Brazilian Butt Lift, performed by an artistic plastic surgeon, will not only produce a fuller, more sculpted behind, but will also result in a smaller and more well defined waist, thinner upper thighs, a flatter tummy and a more beautiful contour to the body. What a package deal!
Frequently Asked Questions About the Brazilian Butt Lift
What is the lifespan of the transferred fat?
The lifespan of the fat will vary from person to person. However, if the procedure is done correctly, most of the fat that survives the transfer will augment the buttocks for years, especially when the patient maintains a stable weight.
What can I do to help the transferred fat survive?
Most importantly, you should follow your doctor's orders. Wearing the compression garment as instructed will significantly help.
Additionally, you should:
Use BBL pillows for at least four to six weeks after the operation
Avoid lying on your buttocks for a minimum of six weeks
Avoid smoking or consuming tobacco product
Avoid aggressive workouts for three weeks post-procedure
Attend post-procedure check-ins
Will there be scars?
There may be the faintest scarring post-procedure in the fat harvesting sites, but it is minimal. Only small incisions are made. Additionally, patients can use anti-scar cream to help the scars fade quickly.
If I gain weight, how will that affect my new contours?
The procedure involves liposuction, which removes most of the fat cells from the waist, tummy, and thighs. These fat cells are then transferred to the buttocks so that the butt will have a higher volume of fat cells than elsewhere on the body. If you should gain weight (especially significant weight), you will notice the greatest increase in your buttocks' size since that is where the fat cells are now located. Patients are encouraged to maintain a healthy lifestyle and a regular exercise routine to keep the procedure's results.
How long does the surgery take?
The surgery time can vary for each patient, mostly depending on whether they want a small, medium, or large enhancement. Typically, the procedure takes two to three hours total.
Do I need someone to drive me home?
Yes, someone should drive you home as you would have been put under general anesthesia for the procedure. Additionally, it is best if a family member or a friend stays with you for at least 24 to 48 hours after the surgery to keep an eye on you. Make sure you prep for the recovery period ahead of time by reducing your chores and planning your meals. This way, all you need to do is focus on resting.
Interested in Learning More?
Call Dr. Joshua Halpern today at (813) 872-2696 for your free consultation to see how he can help you achieve your dreams from the bottom up!