Ears may be one of the unheralded heroes of the human body. They give us the gift of sound, yet are discussed infrequently. Due to hairstyles they may not even be noticed. And yet…. ears usually attract attention when they have split or stretched earlobes, when the earlobes are not in proportion to the rest of the face, when the ears protrude outward in a socially unacceptable manner or when they age ungracefully with hair growing from the ears.
Dr. Joshua Halpern is an expert on the cosmetic repair of the ear for all age groups.
He has performed otoplasties on many children and adults over the years, has repaired split earlobes and has beautified many an earlobe to make it appear more youthful and proportionate.
Dr. Halpern performs otoplasty surgery on children who are around five years old or older. While some doctors do not have much experience with this type of surgery or don't have the vision to "see" the artistic importance of giving a patient a beautiful, natural looking ear, Dr. Halpern cares about the child's self-esteem. It is not just the parents' job to give their child good looking ears, thus motivating them to sign the child up for surgery; it is also the doctor's responsibility to give the child the best ears that will permanently be a part of their facial appearance. Dr. Halpern is not interested in just doing a technical job to repair protruding ears, asymmetrical ears or ears deformed by accident or birth defect.
He feels that the child's ears can be a future part of their self-esteem and success.
Anyone who has been teased in school for any reason, or for protruding ears, can understand how strongly this issue affects students. That is why it is important to correct this problem as early as possible.
Happy Ending
One of Dr. Halpern's patients was a female high school student. She was used to wearing her hair long to hide her ears or to wear hats to cover them, because she had spent most of her school life doing just that. She spent a lot of her time calculating the best way to hide her protruding ears, when she should have spent that time just being a happy-go-lucky teenager. When her parents offered a gift of either a car or an otoplasty, she actually chose the surgery. Her entire life changed after she had her ears fixed: she started wearing pony tails, put her hats aside and stopped worrying all the time. She became a more social person and even tried out for the cheerleading team. While her story is one of great success, there are also many adults who have lived with this issue their whole lives. It is never too late to consult with Dr. Halpern, to have an otoplasty and to see how he can help improve your life and your self-esteem with ear surgery.
Earring Issues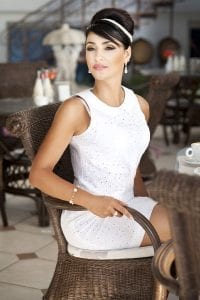 For earlobe splits or where the earring hole has been stretched by earrings that are too heavy or by a young child pulling on the earring, Dr. Halpern can repair those as well. He can fix one or both ears. The surgery is quick, painless and involves no downtime. You do not have to sacrifice wearing earrings because of a torn ear lobe. You can get it repaired by Dr. Halpern and enjoy wearing beautiful jewelry around your face again.
Aging Ears
Older patients who are seeing their ears get longer, larger, perhaps misshapen or out of proportion due to the aging process, can have Dr. Halpern perform cosmetic ear surgery on them to return their ears to a more pleasing appearance. This surgery can be performed by itself or in conjunction with a facelift.
Feel free to ask Dr. Joshua Halpern at your complimentary consultation about options for ear surgery to enhance your life and self-esteem.  Call (813) 872-2696