Tummy tuck surgery, or abdominoplasty, has helped thousands of women feel better about themselves (and the fit of their clothes). It is a procedure used to restore a tighter, flatter looking abdomen when there is excess fat in the stomach area and the muscles have become lax, due to assorted reasons, such as age, childbirth or weight gain.
Dr. Joshua Halpern is an expert on tummy tucks, having invented the Malibu Tummy Tuck®, which makes the tummy look younger and smoother, with a more natural youthful looking belly button, that many patients are happy to show off in a bikini. Pain is minimal and recovery time is quicker than with more traditional techniques.
What Makes Dr. Halpern's Tummy Tuck Unique?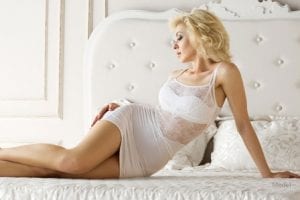 Is it any wonder that the inventor of the Finesse Technique® would also invent a better, more patient-centric tummy tuck? Many patients are thrilled to be able to show off their flat tummies, and are proud of their new belly button, which could very well look better than the one they had before surgery.
Instead of using staples to close his tummy tucks, Dr. Joshua Halpern sews his patients up himself, from the inside out. Thus, instead of getting a wider, stretched and unattractive scar, Dr. Halpern's hand sewn scar is more refined and heals, over the long run, far better. While it takes much longer to sew than to staple, Dr Halpern believes that is why he became a plastic surgeon—not to compromise on patient care, but to give his patients the best results possible. And if you are the patient having a tummy tuck, don't you want to get a better result instead of a compromise, both with your scar and your belly button?
What Tummy Tuck Options Does Dr. Halpern Offer?
Dr. Halpern has a variety of choices (which are not available from most tummy tuck surgeons), from the Malibu Tummy Tuck® to the moderate scar tummy tuck to the mini-scar tummy tuck. Call for a free consultation with Dr. Joshua Halpern to find out which choice would be best for you.
Interested In a Tummy Tuck?
If you are looking for an excellent quality plastic surgeon to perform your tummy tuck, look no further than the inventor of the Malibu Tummy Tuck®. Call (813) 872-2696 for an appointment!
Frequently Asked Questions About Tummy Tuck Surgery
Am I the right candidate for a tummy tuck surgery?
Any woman unhappy with her abdomen following a pregnancy or significant weight loss may be a candidate for a tummy tuck. Most candidates should wait at least six months after their weight loss or pregnancy to undergo a tummy tuck. Candidates should be healthy, with no medical conditions or medication use that may make the surgery or recovery process dangerous. Ideally, patients should be within 15 pounds of their goal weight before undergoing a tummy tuck procedure.
How can I benefit from a tummy tuck?
A tummy tuck can remove excess fat deposits and skin while tightening the abdominal muscles. This process creates tighter abdominal contours that can help increase confidence in patients. The Malibu Tummy Tuck® technique, pioneered by Dr. Halpern, can also provide a more shapely and attractive belly button.
What kind of anesthesia is used for my tummy tuck?
A tummy tuck is performed under general anesthesia. By operating in this way, Dr. Halpern ensures that his patients are safe and comfortable. Dr. Halpern also applies his Finesse Technique® in all procedures to help minimize bruising, swelling, and recovery time.
How long is my tummy tuck recovery?
Your recovery time may vary depending on your age, weight, lifestyle, personal healing capabilities, and other factors. Most women can return to work within two to six weeks and fully recover within four to eight weeks. During your recovery, Dr. Halpern recommends keeping your incisions clean, dry, and under minimal tension. He may also recommend temporary lifestyle changes to speed your recovery and ensure satisfactory results.
When will I see my tummy tuck results? Are they permanent?
The initial results of your procedure should be visible within two to six weeks as swelling subsides. The final results of a tummy tuck will be visible within six months following the operation. Plastic surgery does not halt the aging process, so the treated area will continue to age naturally following your operation. Maintaining a healthy lifestyle and a good diet and exercise regime will allow you to maintain your results for years and decades to come.
How much will my tummy tuck cost?
The cost of a tummy tuck will depend on the operation's location and the fees associated with the anesthesiologist, surgeon, and facility. These will all vary, so the only way to get an accurate price for your tummy tuck is to consult with Dr. Halpern directly.
What are the risks associated with tummy tuck surgery?
All surgery carries some degree of unavoidable risk. Dr. Halpern has spent years perfecting low-risk, minimally invasive procedures that reduce the possibility of complications, but some risk always remains. Some complications associated with tummy tuck surgery may include:
Bleeding
Infection
Fat necrosis
Skin loss
Allergic reaction to anesthesia