Dr. Joshua Halpern's breast enlargements are a beautiful alternative to having breasts that you consider too small. Many women feel under-endowed physically, which affects their self-esteem, their clothing choices and the image they have in their minds of their most beautiful selves.
Dr. Halpern helped pioneer the endoscopic mini-invasive almost bloodless breast enlargement, a procedure which is part of the Finesse Technique and involves a faster recovery, smaller scars and typically, no bruising. It has a high success rate, with many patients returning to work in just a few days after having their procedure. Many female surgeons appreciate the benefits of this procedure and choose to have Dr. Halpern perform a breast augmentation on them.
Advantages of having a breast enlargement with Dr. Joshua Halpern:
personal & free consultation with Dr. Halpern
Finesse Technique
almost bloodless
faster recovery
smaller scars
typically no bruising
return to work in just a few days
benefit of having an artistic surgeon
high success rate
work on goal plan together with Dr. Halpern
choose implant size along with Dr. Halpern
natural looking results
high level of satisfaction with the procedure
surgery performed in Dr. Halpern's private accredited OR
option of breast enlargement by fat transfer
What About Implant Size?
Many physicians who perform breast augmentations believe that the years they spent studying and training leave them best qualified to choose the implant size for their patients. Dr. Halpern believes in a joint effort. After all, it is the patient, not the doctor, who will be living with her "new" breasts for many years.
For a number of patients natural looking results, which are an important part of Dr. Halpern's skill set, bring them the highest level of long term satisfaction.
The Surgery
Consultations for breast augmentations are always in person with Dr. Halpern. Surgery is performed in his state of the art accredited operating room. His goal is to keep his patients healthy and happy and make the surgery and the recovery time as comfortable as possible. In order to facilitate these goals Dr. Halpern utilizes  instruments that he invented specifically for breast augmentations: The Halpern Breast Lighted Retractor and the Halpern Endoscopic Lighted Retractor. These instruments enable a more precise surgery in making the breast pockets, maximizing available cleavage and minimizing blood loss.
In order to achieve the best results possible from your breast augmentation with Dr. Halpern, you must follow his pre and post-operative instructions to the letter.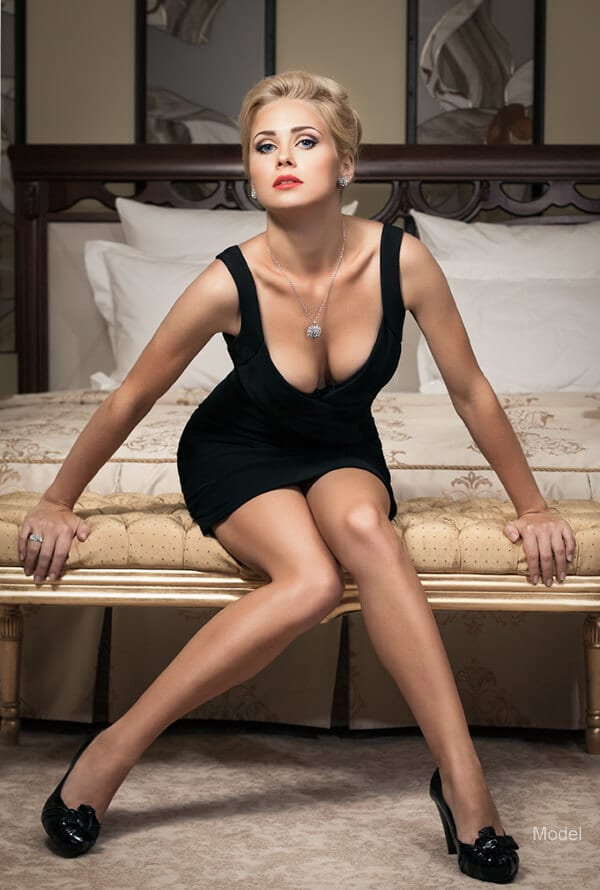 Fat Transfer
Some patients are opposed to having a breast augmentation which utilizes  breast implants, and are looking for a more natural material with which to increase their breast size. For these patients, fat transfer may be an ideal solution. It takes fat away from where the patient does not want it and injects fat into the breast where the patient does want it. That's the beauty of a fat transfer breast enlargement and patients like it because it is relatively quick with small incisions and a fast recovery. This procedure is for patients looking for a minimal increase in breast size and may not be for everyone. It is important to come in to see Dr. Halpern to discuss the advantages and disadvantages of fat transfer versus implants.
Fat transfer can also be used to camouflage ripples from implants from other doctors. By adding an additional fatty layer above the implant, this helps to minimize visible rippling in patients who have breast implants.
Important Considerations
Dr. Joshua Halpern has performed many successful breast augmentations over the years and feels that his artistic background is helpful in visualizing a successful operation before he even begins the surgery. Patients benefit from his artistry with a more beautiful result. It is important to talk to any potential doctor for this procedure about their success rate as well as their re-operative rate.
Please call for a complimentary consultation with Dr. Joshua Halpern at: (813) 872-2696