Once a woman realizes that she is aging, she often begins to look for ways to delay, prevent or repair the damage, whether it is caused by smoking, sun exposure, genetics or simply aging. Women who come to Dr. Joshua Halpern for a facelift, usually in their forties and older, each have their own reasons for wanting the procedure. Some feel they look like their mothers and thus look older than they feel. Some complain of too much wrinkling on the face or that they don't like how their neck is aging. Some want their jowls diminished or the appearance of their nasal labial folds to improve.
The bottom line is that they want their face to be more of a reflection of how they truly and deeply feel—younger on the inside.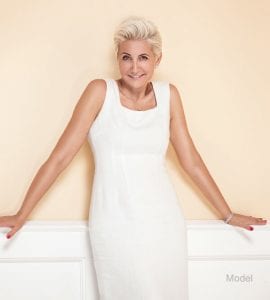 Thus the desire to look younger on the outside is both emotional and logical. Given that they are coming to a board certified cosmetic plastic surgeon, with years of experience in facelifts, they are looking for quality solutions which will allow them to feel good about their appearance again when they look in the mirror.
Dr. Joshua Halpern has pioneered techniques and invented instruments throughout his career. He is an innovator and an artist, devoted to giving his patients the most proven and beneficial techniques available. That is why many patients who come to him for facelifts say that they were referred by their doctor, their cousin, their friend… They recognize the very high quality and natural results of his work.
The Millennial Facelift
Dr. Joshua Halpern named his signature procedure The Millennial Facelift, a procedure he pioneered, and which employs smaller incisions than a traditional facelift. It utilizes his invention of the Finesse Technique, which means it is minimally invasive, with less pain, less bruising and affords a quicker recovery.
It can be a big decision to trust someone with your face.  Yet it is more important than ever for women to feel their best; taking care of their appearance is high on the priority list. That is why it is also more important than ever to go to the best. Dr. Joshua Halpern embodies the best, through his training, his experience, and his invention of the Finesse Technique. He is a pioneer, and has been labeled a perfectionist by his patients. His goal: to rejuvenate the face for a more youthful, yet still a natural looking result, which will please, not just his patients, but in a more challenging sense—himself.
If you would like to discuss your cosmetic plastic surgery needs with Dr. Joshua Halpern, please call (813) 872-2696 for a complimentary consultation and see how he could help you recapture your joy at looking in the mirror again.